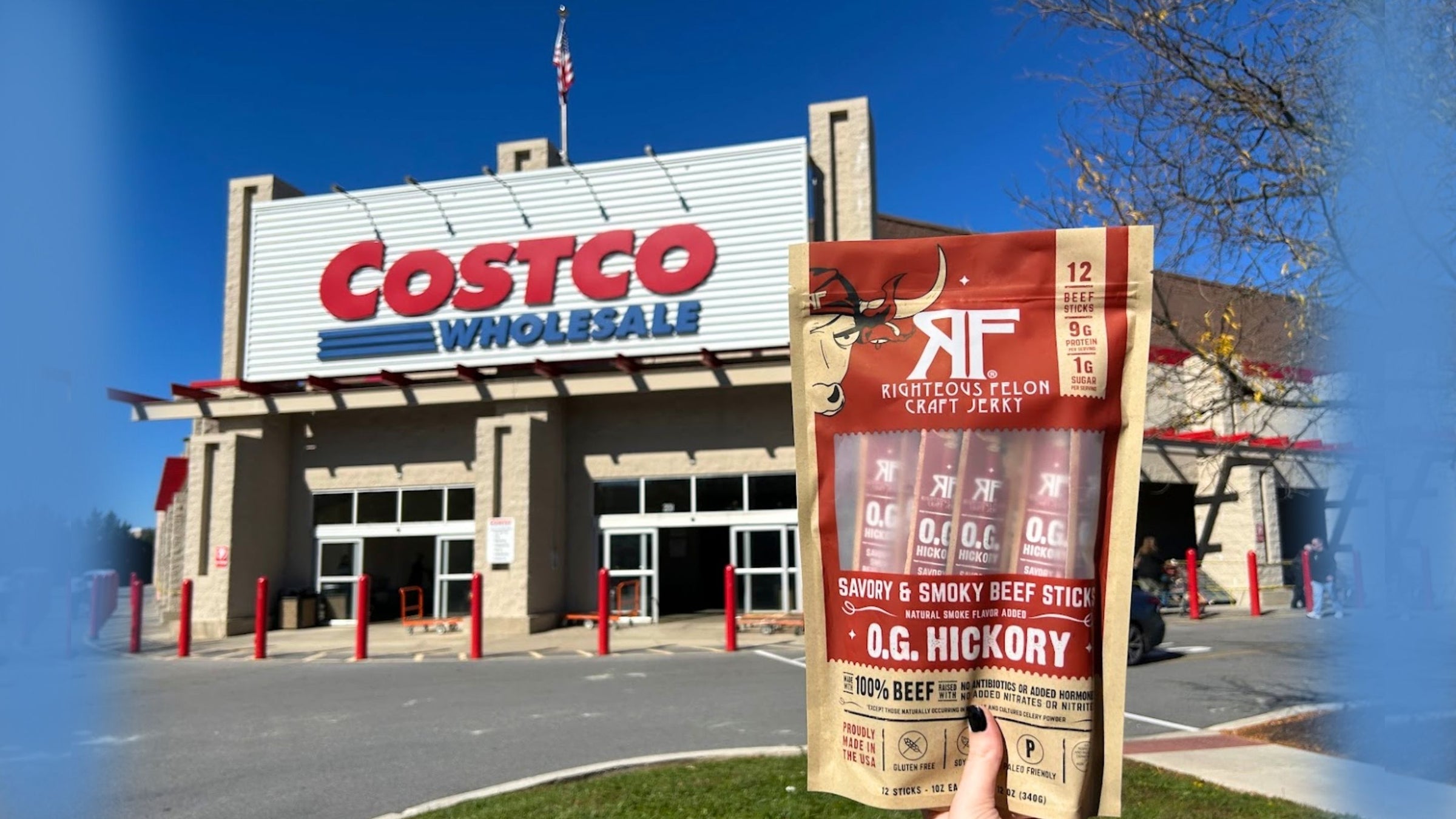 Now available at northeast Costcos!
savory & smoky beef sticks
o.g. hickory
Our flagship Jerky of classic O.G. Hickory lore, transmorphed into a succulent snack stick of startlingly smoky & cylindrical proportions.
Get your 12-stick pouch at a Costco near you today - see the full list of locations below!
ON-THE-GO PROTEIN, FOR ALL OF LIFE'S OCCASIONS:
ROAD TRIPS
Whether you're going across the country or across the county, our shelf-stable meat sticks are just the partner in crime to stash in your glovebox. Know that feeling when the traffic hits & hunger settles? Now ya don't!
POST-WORKOUT
Because shakes & bars are inconvenient, taste like powder, and packed with added sugar & fake ingredients. Don't let your workout go to waste - fuel your recovering muscles with the all natural, American sourced protein they crave!
TOP RATED GIFT
Top rated gift by Oprah, Men's Health, Forbes, Food & Wine, & more... but we'll let you decide. Wait till you see the mouth-watering look on their face.
LUNCH
Everyone could use some extra protein throughout their busy days. Whether you're packing lunch for yourself, spouse, or kiddos, RF meat sticks are the ULTIMATE quick, easy, and reliable add-on.
FIND A COSTCO LOCATION NEAR YOU:
most wanted by:
★★★★★

We discovered these yummy beef sticks at a gift shop on a recent family vacation to Utah. They have quickly become a family favorite! The best we've ever had.

Leah N.
★★★★★

Some of the best meat snacks I've ever had, by a long way. The snap is great when biting in, and that flavor is incredible as a tasty healthy snack after a workout.

Paul D.
★★★★★

I love keeping a few of these around the bottom of my purse for a quick protein boost. Great taste. Just the right kind of filling.

Liane P.
★★★★★

These are so delicious and my whole family loves them. The quality is unmatched and the flavor is great.

Amber Z.
★★★★★

My kids love this healthy snack!

CHRISTOPHER D.
★★★★★

I usually don't like meat sticks because of their toughness, not these. This brand are tasty, tender straps. So glad I found these!! The taste and texture are so smooth. I definitely can never just get one. With my difficult boyfriend, these are a hit!

Rachelle R.
★★★★★

Excellent tasty treat on the ride home from work.

Jason M.
It's in the works! Be sure to let your local Costco know you are looking for Righteous Felon!
We're working on it! Be sure to let your local Costco know you're waiting for them.
Our 12-pack O.G. Hickory stick pouches are unique to Costco. We have other buying options available on our website.